Relasphone - a mobile application for collecting in situ forest measurements and estimating biomass
The Relasphone mobile application is used for the evaluation of forest stem volume.
The Relasphone is a fast and cost-effective way to collect geo-located in situ forest measurements, that can be used as reference data for satellite image processing in order to produce forest biomass maps. The app is based on the relascope principle (Bitterlich, 1984) to measure basal area (m2/ha), a variable closely related to forest biomass. Basal area is measured interactively, by counting trees that appear larger than a target gauge overlaid in the phone liveview. In addition to basal area, the Relasphone includes the following measurements and estimates:
tree diameter
site type, characterizing the richness of the soil (Cajander et al., 1949): herb-rich, mesic, sub-xeric or xeric
soil type: mineral or peat
development class, characterizing the degree of maturity of the dominant tree species in the plot: young trees (siblings), middle-age trees (thinning), mature trees, open (clearcuts) or shelter (cleared areas with remaining middle-aged or mature trees for regeneration).
dominant tree height, esitmated by the user
estimated biomass, based on the measured basal area and dominant tree height
estimated monetary value of timber, based on market prices input by the user
The Relasphone version 1.5 can be downloaded for free on Google Play Store.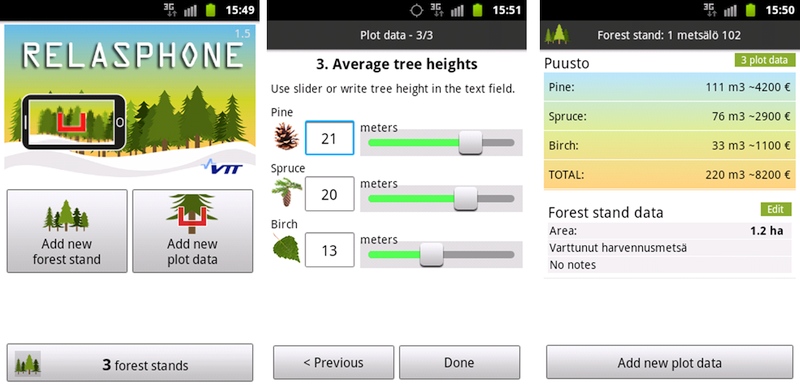 Screen captures of the Relasphone app - main screens and metadata.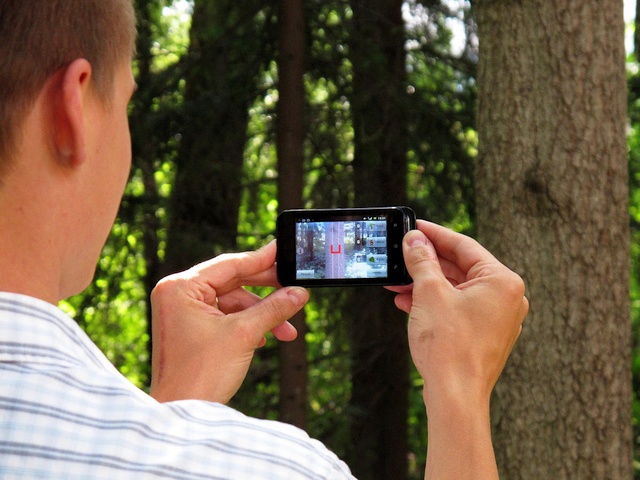 The Relasphone app in use in the forest.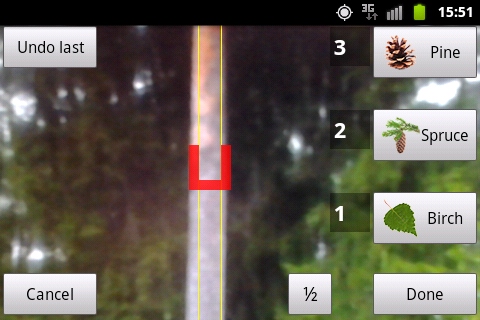 The Relasphone app: interactive relascope view (zoomed view). Trees that appear larger than the relascope gague (in red) are counted using the species-wise touch buttons.
Sovelluksen relaskooppinäkymässä hyödynnetään puhelimen kameran ominaisuuksia ja korkeusmittauksessa puhelimen kiihtyvyysanturia. Eri valmistajien puhelinmalleissa ja eri Android-ohjelmistoversioissa saattaa esiintyä eroavaisuuksia, jotka vaikuttavat relaskoopin hahlon leveyden laskentaan tai kulman mittaukseen ja siten arviointien tuloksiin. Relaskoopinäkymän hahlon leveys on laitekohtaisesti kalibroitavissa näyttämään oikeaa leveyttä tunnetulla mittausetäisyydellä. Kalibrointityökalun saa valittua näkyviin, kun relaskooppinäkymässä painaa puhelimen 'menu'-painiketta. Relasphonen ensimmäisellä käyttökerralla relaskoopin hahlon koko on syytä tarkistaa ja tarvittaessa säätää oikeaksi.
Relasphonessa on myös kokeellinen puun pituuden arviointityökalu. Työkalun saa auki Puiden pituudet -näytössä puhelimen 'menu'-painikeesta. Mittauksessa kannattaa tarkkailla mittarin näyttämää etäisyysarviota puuhun tuloksen laadun varmistamiseksi. Työkalu ei automaattisesti kirjaa arviota pituudeksi, vaan pituus täytyy syöttää käsin.
The Relasphone application is provided as is and without warranty of any kind. Ohjelma toimitetaan sitoumuksetta ja sellaisenaan. VTT ei anna ohjelmalle tai sen sisällölle minkäänlaista takuuta. VTT pidättää oikeuden päivittää ohjelmaa tai poistaa sen Play-kaupasta milloin tahansa. VTT ei vastaa mistään mahdollisesta kulusta, menetyksestä tai vahingosta, joka aiheutuu ohjelman käyttämisestä, vaikka VTT:llä tai sen edustajalla olisi ollut tieto palvelussa olevasta virheestä.
© 2013-2016 VTT Technical Research Centre of Finland Ltd